Leighton

Subject: Naruto 567 Warning: !Spoiler Alert! Sat 17 Dec 2011, 1:00 am

---

So, how about that new chapter huh? It seems a lot has been revealed IMO, but yet not enough. So let's see what we have. Even though Guy and Kakashi are both themselves fresh from a fight with the strongest generation of the Hidden Mist's Seven Swordsmen, they both are still operating near perfection. And I'm quite happy to see that Suigetsu and Juugo are back. Where they are going could be a complete plothole or not. As for the colored pages at the beginning, I payed little attention because it said "Sasuke" "Enters" and "Battlefield" on the same page.

So Tobi himself can't control the Tailed Beats easily when they go all-out. Does that mean that currently, he can control both the fully formed Six and Four tails? What if they were to all come out?

And is the Fox softening up? Clearly the fox knows that if he took all of Naruto's chakra, Madara might be able to summon it once again. Clearly I have been trumped by the fox. I didn't think he would be smart enough to turn away a fight like that.
Adam

Ulkira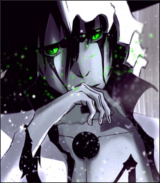 Subject: Re: Naruto 567 Warning: !Spoiler Alert! Sat 17 Dec 2011, 11:40 am

---

I personally enjoyed this chapter. Very much. It further strenghtened my suspicion that the only way for Naruto and Co. to actually win this fight will be if Kabuto either "un-summons" the Jinchuuriki or takes full control of them. Since Tobi clearly doesn't have complete dominance over them, then that means Kabuto's still the one who's really in control of the Jinchuuriki.

I'm glad that the Kyuubi is warming up towards Naruto, even though it's been obvious for a long time (ever since Naruto Talk no Jutsu'd him earlier) that the Kyuubi will help Naruto. I found the apparent relationship between the Bijuu to be surprising. Based on Shukaku's opinion of the Kyuubi, I had assumed that all the Bijuu hated each other (with the Hachibi being the black sheep in that category). But it seems like they all have this sense of camaraderie, except the Kyuubi due to its pride no doubt. I'm looking forward to the Kyuubi helping Naruto, even if I don't think it will shift the balance of power in the good guys' favor.

So, anyone else notice that Tobi used what appeared to be Kushina's chain technique to bind the Gobi? I see many new theories about Tobi emerging from this. Oh God.

Last edited by Ulkira on Sat 17 Dec 2011, 8:40 pm; edited 1 time in total
Leighton

Subject: Re: Naruto 567 Warning: !Spoiler Alert! Sat 17 Dec 2011, 6:34 pm

---

Yes, I did in fact see that. It really raised my suspicions. I didn't want to say anything because I wasn't sure if it was in fact the same technique or not. It could be a side effect from having the Rinnegan and the Sharingan, because the Rinnegan does permit the ability to learn almost any technique.
leon77

Subject: Re: Naruto 567 Warning: !Spoiler Alert! Mon 26 Dec 2011, 10:30 am

---

Just got the strangest flash of a power struggle between 'Tobi' and Kobuto: The manipulation power of the Chakra Disruption Blades vs the Impure World Resurrection with a little tailed beast rampaging in resistance to both on the side.

It makes me wonder who has the best control? I mean we know that Tobi is using the rods to control the body as Nagato did, but Naruto with aid from the Nine-Tails resisted such actions so I think that he is also using the Sharigan to manipulate the tailed beast (liek Madara did to the Nine-Tails) this would also be a good reason for each Jinchuuriki to have an implanted Sharigan eye I think.

As far as the Impure World Resurrection goes it can totally manipulate a summoned person, but I am not sure if it can take full control offer the Bijū. I mean with their massive resistance power they may be able to over turn the power to which the summoned Jinchuuriki can control them. I mean Kabuto did not summon the tailed beast he summoned their host if that makes any sense.



I also wonder how much of a chakra strain is this placing on Tobi? I am not really sure how big the guys chakra pool is so meh, but if he is controlling the Tailed beast with the Sharigan and having to control the Jinchuuriki I would have to think that is a big strain to perform. I also wonder if these Jinchuuriki should suffer the same effect that an implanted Sharigan has on Kakashi? I mean they are not Uchiha, but then again if Kakashi had a tailed beast he perhaps wouldn't have to worry so much about the chakra drain effect.
Subject: Re: Naruto 567 Warning: !Spoiler Alert!

---